Energy savings without compromise with myEnergis.eu
Quickly and inexpensively:
Reduce the amount you spend on energy
Reduce your carbon footprint
Discover your real energy needs
How to do it?
The solution is a measuring set for one or three-phases measurement of electrical energy consumption. You can connect the measuring set yourself or you can order the installation by professional company. The measuring current transformers are attached on cables behind the main electricity meter. Then they are connected to the radio transmitter T, which sends data about current consumptions on individual phases to communication panel G several times per second. Communication panel sends data to myEnergis data center through the existing internet router. After the registration on the portal you have your actual data available at any time.
With myEnergis.eu you get:
Energy consumption displayed in real-time
Time series of your consumption minute by minute
Comparison of energy consumption hour by hour, day by day or month by month
Comparison of energy consumption with energy standards
Forecast of your energy budget
Alerts before your energy bill goes up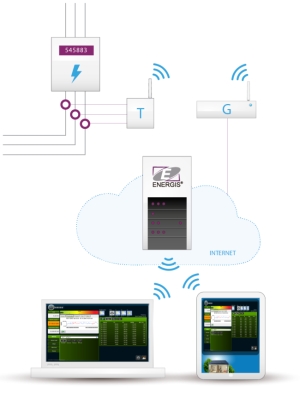 myEnergis.com is a professional energy management tool that is simple enough for anyone to use.